Garden Whimsy

Garden Whimsy


Grab Some Grub 2.0

Grab Some Grub 2.0


Happy Birthday Bench Pillow

Happy Birthday Bench Pillow


Hexie Kisses By Jen Kingwell

Hexie Kisses


Holiday Herringbone

Holiday Herringbone


Hot Stuff Oven Mitt

Hot Stuff Oven Mitt


Imagine

Imagine


Indian Summer

Indian Summer


Infinity

Infinity


Irish Thistle

Irish Thistle From Quiltworx. 57" X 57". Collectors Edition.


Jelly Roll Rug 2

Jelly Roll Rug 2


Kentucky Spirits

Kentucky Spirits. Quilt Size: 99 X 99".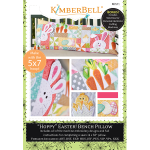 Kimberbell Hoppy Easter Pillow

Easter Bench Pillow Machine Embroidery CD - Kimberbell Designs


La Vie Est Belle

La Vie Est Belle


La Vie Est Belle By Jacqueline De Jonge

La Vie Est Belle


Labyrinth

Labyrinth


Lakeshore Sunrise

Lakeshore Sunrise designed by Judy and Brad Niemeyer for Quiltworx. A sewing technique called foundation paper piecing is used to assemble the units required to make this quilt. Size 80" X 80".


Little Stitchies - Beeskeps Candle Mat

Little Stitchies - Beeskeps Candle Mat


Lovely Little Pouch

Lovely Little Pouch


Luminosity

Luminosity


Magnolia Bucket Bag

Magnolia Bucket Bag


Mi Amor Baby Quilt & Table Runner

Mi Amor Baby Quilt & Table Runner.


Mini Pincushion Collage Pattern

Mini Pincushion Collage Pattern


Miss Rosie

Miss Rosie


MoonCatcher

MoonCatcher By Quiltworx. Size 99" X 99".


Summer Solstice Queen

Summer Solstice Queen Size: 99" X 99".


Amazing Hot Pad Table Runner

Elegant Table Runner Pattern with Built-in Hot Pads. Comes with four custom interfacing templates for the Folded Star Hot Pad. Ends have double prairie points. Adds protection and Beauty for your table. Size 20" X 64".


Citrus Punch by Madison Cottage Design

Citrus Punch by Madison Cottage Design. Offered in sizes from table runner to 67 1/2" X 75". Takes betwen 5 and 23 fat quarters.


Coconut Chips by Madison Cottage Design

Coconut Chips by Madison Cottage Design. 4 sizes from a table runner to 68" X 75". Fat quarter friendly. Takes from 5 fat quarters to 20 fat quarters.


Garden Row

Carrots, flowers, wheelbarrows, shovels, rakes, birdhousese, birds, butterflies, baskets.....This pieced scrap quilt will make you want to get out in the garden and start planting! Pattern from Glendora's Girl. Finished wall quilt size: 30"x40


Get Out of Town Duffle

Get Out Of Town Duffle by Patterns By Annie. This functional yet stylish dufflebag has two styles of handles including grab handles on the side and a detachable adjustable strap with pad for comfortable over-the-shoulder carrying. One zippered and four


Ginger Spice By Hugs' n Kisses

Take a fantastick range of fabrics and whip this funky quilt up in no time.


Girly Gored Skirt

An elastic waist swing skirt with timeless sppeal that can custommade to fit any size girl.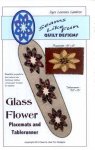 Glass Flower Placemats and Tablerunner Joyce Lawrence Cambron

A beautiful set of projects (palcements and tablerunner) to sew using a new technique making curves easy to piece by maching.


Gooseberry Falls Whirligig Designs

Finished size - 70" X 88". This quilt is made with flying geese blocks. 1/4 yard of 20 different fabrics will help you on your way.


Gossip In The Garden
By Hatched and Patched

New pattern by Anni Downs and one of our favorite Australian companies, Hatched and Patched. This quilt is perfect for scraps and adding as you go. Finished size 68 1/2 X 70 1/2. Contains full size pattern pieces. May we suggest the 30's Playtime C


Grandma Dot's Fruit Pie Hot Pads


These hot pads can be used as pot holders or trivets. They feature six layers of fabric and batting, and a realistic crust can be produced from tea-dyed muslin. An extra-wide bias binding made from the pie tin fabric wraps from back to front. The rick rac


Hadley Top By Granline Studio

The Hadley is drapey, fluid, and sophisticated. It's the semi-formal top that you need to wear to work or to throw on over your jeans for a night out. View A has a jewel neck, a pleat at the back neckline, and bracelet lengths sleeves. View B is sleeveles


Halloween Friends Alley Cat Tales

finished size 18 1/2 X 22 3/4.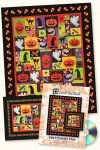 Halloween Fun Quilt
Lunch Box Quilts

Stir up some fun with this Halloween themed quilt. This pattern collection contains nine Halloween embroidery machine appliqué designs. Designs on CD.


Handbagz

Some of us can never have too many handbags. Let your imagination flow! Fabric requirements given for a 45.5"x55.5" quilt. From Stargazey Quilts by Jan Mullen. Click on "Close-up" to see a close-up.


Happy Blooms by Need'l Love

Happy Blooms by Need'l Love. Designed by Becky Cogan & Renee Nanneman. Wall Hanging is 33" X 37 1/2".


Happy Halloween by Wooden Spool Designs

Happy Halloween by Wooden Spool Designs. Size 23" X 29".


Hard Candy Hexies

Hard Candy Hexies, designed by Joyce Lawrence Cambron for Seams Like Sun Designs. A Curved-piecing project.


Hearts Desire By The Birdhouse

Hearts Desire By The Birdhouse. A Table Centrepiece. Applique and embroidery fun.


Hexie Blossoms By Terri Degenkolb

Hexie Blossoms designed ty Terri Degenkolb for Whimsicals. Offered as a lap quilt Wall Quilt and Table Topper.


Hiding Hares and Raining Carrots

Bunnies and carrots play hide and seek on this row quilt pattern from Glendora's Girl. Finished wall quilt size: 16"x30".


Holiday Recipe Towels
By Lunch Box Quilts

This recipe collection contains ten all time favorite holiday recipes. Use these recipes during your favorite times of the year such as Thanksgiving or Christmas celebrations. Designs on USB stick.


Holly

Holly, a jumper dress with racerback bodice and pook-a-boo skirt by Modkid.


Holly Wattlebee Designs

Doll pattern.


Holly Jolly Patrick Lose Studios

Create a "Holly Jolly" Christmas mood at your holiday gatherings with these festive applique table toppers. Table topper and 15" place mat pattern.


Home is Where The Heart Is Table Runner

Home Is Where The Heart Is table runner by Jane Sparrell for Rick Rack and Polka Dots. Aprox. 34 1/2 X 17".


Home of the Brave By Two Blonde Mice.

New Pillowcase design. Finished size: standard pillowcase. The needle art is by Cheryl Mousser.


House Tea Cozy and Mat

House Tea Cozy and Mat by Zakka Workshop Patterns. Give your teapot a home of its own with this charming tea cozy and mat set. Simple details such as embroidery and fussy cut print fabrics make this project truly special. Finished Size: 7 x 8 3/4 for


How Many Days
By Samsarah Design Studio

How Many Days? by SamSarah Design Studio. What better way to count down the days to Christmas. Of course it could be a year around wall quilt that doubles as an advent calendar.


Huggable Slug & Sweetiepie Snake By 7LayerStudio

100% of the net proceeds from this pattern will go to Bulgarian orphans through one Heart Bulgaria.


Huntington Hobo Pink Sand Beach Designs

Big stylish Zipper Top Bag. Instructions and pattern pieces included. So fun to make. Instructions are easy to understand and fun to sew.


I love USA

I Love USA by Raggedy Ruth Designs for Forever In Stitches. Create a new twist on the traditional patriotic symbol with this "Flag Themed" Heart. The addition of the appliqued "i" and "USA" lettering completes this patriotic message.


Ice Castles - Collector's Club Pattern

Ice Castles, a Collectors Club design based on the Queen Star Mixer Layout. Size: 100" X 100".


Ilsa Handlebar Basket Pattern Hemma Design

Accessorize your bicycle with the fun and stylish handlebar basket (with drawstring lining).